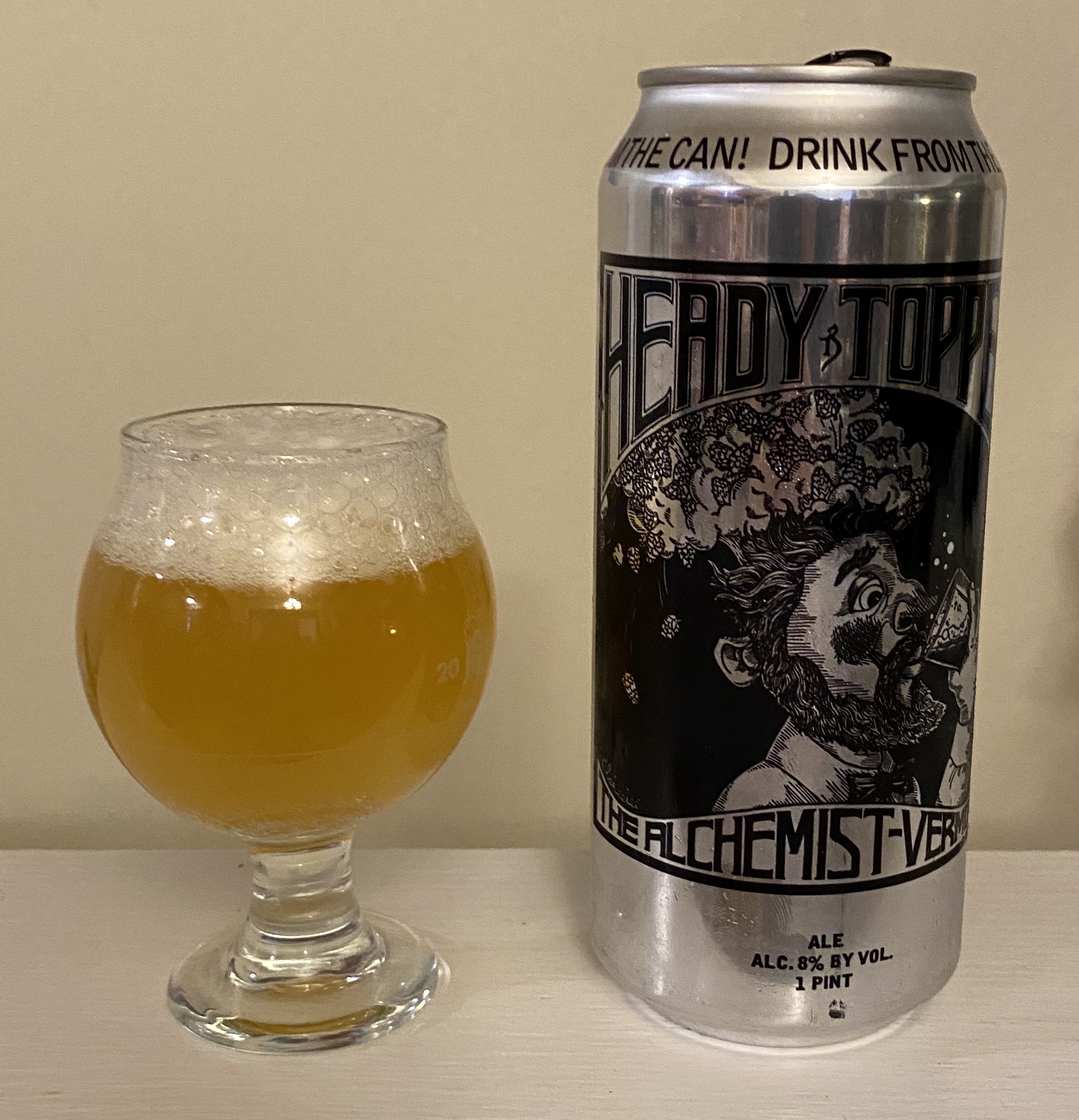 IPAs have been DFTBs favorite style of beer since the official wife and I moved to Boulder in the early 90's.  I fancied myself a beer connoisseur before the move, but the hop-forward beer places like Boulder Beer, Walnut, and Oasis were churning out were completely different than anything I'd had back east.  Then Oskar Blues came along, and I was completely hooked.  Since then, I've made it my beer-drinking mission to try as many of the best IPAs that I can.  With kids on both coasts and family in the Midwest, I've managed to snag quite a few.  My beer top of a kitchen cabinet hall of fame—yeah, the official wife's not a fan either—has standards from Russian River, Three Floyds, and Dogfish Head as well as lesser known gems from places like Faction and Southern Tier.  It's long been missing The Alchemist's Heady Topper, though.
When I first read about Heady Topper, I wanted to try it.  When I kept seeing it pop up on lists of the best beers in the country, I had to have it.  As I don't get to New England very often any more, though, I figured it would be a while before I ever managed to find it.
And then I saw it!  It wasn't a can-shaped beacon atop a castle, but Romero's Facebook post lured me in nonetheless.  They had Heady Topper!  I was in the car.  After answering a few dangerous questions like "what can I get you?" from the new bearded server (whose name I have to embarrassingly admit I can't remember), my quest was complete.  With Heady Topper in hand, I returned home to perform a controlled, scientific test.
Ahem.
Actually, I returned home because it was a Wednesday, and…well…it was Wednesday.  So, I socked my precious 4-pack in the fridge for the weekend.  But when Friday rolled around, I was ready.  And, honestly, Heady Topper did not disappoint.
Interestingly, cans of Heady Topper come with very clear instructions—do not pour the beer.  Drink it straight from the can.  As DFTB likes to try to evaluate beer based on the brewer's intent, I started off straight from the can.  The first thing that hit me was Heady Topper's slightly soft carbonation and mouth feel.  It's not like the mushiness you get from beers that toss in lactose or other such silliness.  It was just enough to round off some rough edges and make everything work together.
I also have to say that you should follow the directions and drink Heady Topper out of the can.  Being, well, me, I had to test that.  Fortunately, I still have some tasters from the GABF lying around, so I didn't have to pour much.  Now, it's not like pouring ruins the beer.  It does get a little edgy, though.  The carbonation gets more harsh, and the flavors that worked together so well bounce off each other a bit instead.  Leave it in the can.
When you do, the flavor hits you immediately with a blast of pine and dank hops.  Then it moves through citrus and finishes very clean.  It's all perfectly balanced with a healthy dose of malt that complements the hops without getting too sweet.  This is a really good beer.  It is the best New England style IPA that I've had.