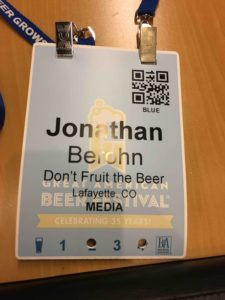 DFTB reports on everything you wanted to know–and plenty you didn't know you wanted to know–about the Great American Beer Festival.  Full coverage of news, reviews, ramblings, and rants…with a little irreverence thrown in, of course.
Odd13's Head Brewer, Brandon Boldt, shares the details behind their Curandero barrel-aged tamarind sour.
Preparing for GABF–Crystal Springs
Father and son Tom and Bob Horst brew up a throwback cedar-infused IPA.
GABF Alternatives–3 Floyds (and More) at Mudrocks
Mudrocks' Kevin Reed's industry connections help him score rare beers for GABF week.
Impressions from Day 1 at the GABF
First Beer, Best Trend, Biggest Mystery, Biggest Disappointment, Last Beer
Impressions from Day 2 at the GABF
How to Media, First Beer, Favorite Discovery, Biggest Mystery, Worst Beer, Last Beer
Tenth Circle of Hell–Beer Fruiters
Amoretti Craft Extracts threaten the very soul of craft beer!
Local GABF Winners—Front Range Brewing
Head Brewer Mitchell Nichols gives DFTB the scoop about his silver-medal-winning Piney Ridge Dunkel.
GABF Best in Show–Trump Hands to the Rescue!
Cannonball Creek wins for both humor and good beer.
Surviving the Trump phenomenon as a Latin America-inspired brewery.
Fruit Goses, Sweet Additives, Hops for Hops' Sake, Random Barrel Aging
Cigar City, Allagash, Funky Buddha, Revolver, Wicked Weed, Black Project
Mad Anthony, Cruz Blanca, Alvarado Street, Wormtown, Fat Head's, Topa Topa, Marble, Seabright, Tennessee Brew Works