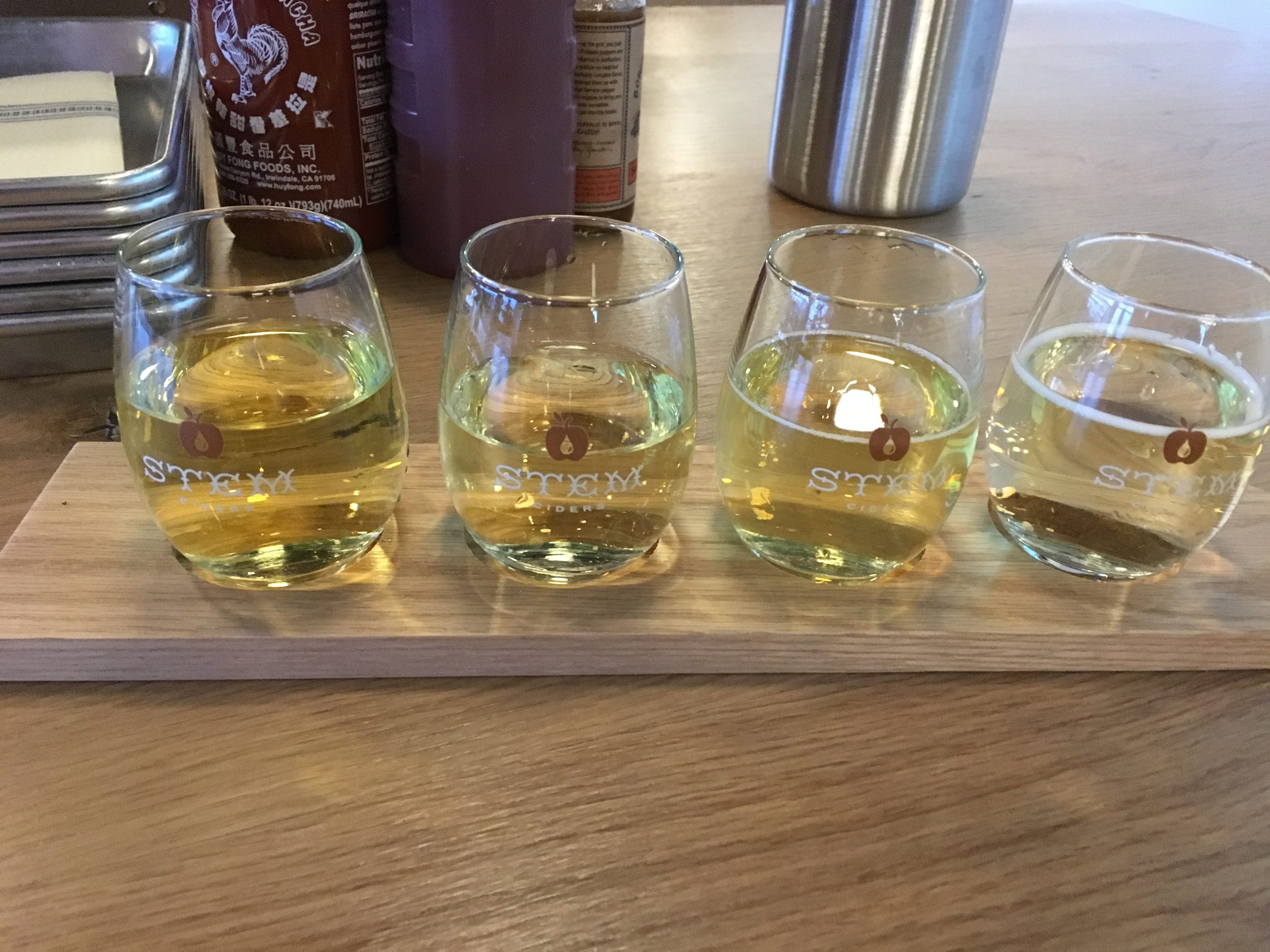 Up is down. Left is right. Truth is lies—wait—that's another article. Anyway…DFTB is drinking…cider? Yes, cider. To be honest, I don't typically drink cider outside of fresh pressed stuff in the fall, but Stem Ciders has opened Acreage, a new production facility and taproom/restaurant, in DFTB's hometown. In the spirit of civic pride, I thought I'd give it a shot. As it turns out, I was pleasantly surprised. I kind of like cider (on a side note, the restaurant was also very solid; I thoroughly enjoyed my lamb burger and fries, and the official wife of DFTB liked the wood oven-roasted chicken; we will definitely return)
I will flatter myself and say that some of you might recall that DFTB doesn't much care for sweet beer. I took the same approach at stem and ordered a flight of drier ciders.
Real Dry is one of Stem's flagship ciders. As advertised, it's not sweet at all. It still has a fairly strong apple taste, but it's crisp and balanced. It reminded me of an unoaked white wine—with apples. In a good way.
I had two special releases next. The Pippins is even drier than Real Dry. It was also tasty, but the apples were a little more reserved. To me, it didn't have quite as much flavor as Colorado Heritage Blend. This was my favorite traditional cider from my visit. It's also dry, but the apple taste has a little more character.
As DFTB is still a beer drinker at heart, I finished off my flight with Grapefruit Citra Hopped. Again, as you may or may not remember, DFTB is not fan of adding hopes to things that don't usually call for hops. Again, though, stem surprised. The grapefruit played well with the apples, and the citrus flavor from the hops really created an interesting fruit-tart balance. I would definitely have that again. I think it would be a great drink for hot days on the deck.
That does bring up my one reservation. I'm not really sure how cider fits into my drinking profile. I can't see my self going to a bar or watching the game and drinking cider with the official friends of DFTB. At the same time, I also don't really see cider replacing wine as my go to match with most foods. Cider sort of fills a niche for me like hard alcohol. I don't drink it very often, but sometimes it fits well with what I'm cooking or eating. I'm going to experiment with Stem Ciders that way. For one, I think they will go pretty well with BBQ. Smoked pork belly and cider sounds pretty good. I'll keep you posted as the weather warms up around here.