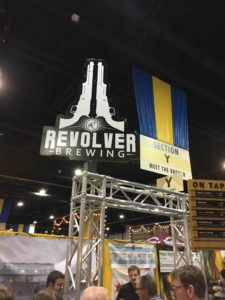 One of my goals at the GABF was to hit some of the hot names in brewing that generally don't ship their beers to Colorado (or are hard to find). I built out my initial list with several breweries that were generating some buzz at the festival. This, of course, meant I faced some big lines, but—once I figured out the whole press pass business—I didn't let that deter me.
Cigar City
I'd heard a lot about Cigar City from both friends and other craft beer lovers. I have to say it lived up to the hype. Chris from Cigar City started me off with their Guyabera Pale Ale. A strong dose of citra hops gives Guyabera a very hoppy aroma and a strong floral flavor. It's a very balanced beer that really highlights the citra well.
Chris next poured me a taste of Cigar City's Oaked Jai-Alai IPA. Unlike most oaked beers, Oaked Jai-Alai is not just sloughed into barrels to age. Cigar City built essentially a beer pressure cooker. In one day, they can impart the mild oak flavors they want into their beer without worrying about all the random flavors that can creep in with barrel aging. The result is a very smooth and balanced IPA with just a hint of vanilla overtones at the back end. This is the right way to add something different to your beer to make the beer better, not to just say you did it.
Allagash
I've been hearing about the greatness of Allagash White from everyone from friends who live in New England to Peter King in his MMQB column. Long story short—they were right. Allagash White is truly a tremendous example of a Belgian Wit. All the spices and flavors you expect from a Belgian Wit are there in perfect balance. The bubblegum from the yeast that overwhelms some lesser wits comes in just at the end to finish the flavor of the beer perfectly.
Funky Buddha
Funky Buddha is another Florida brewery. The first thing you need to know about Funky Buddha is that it's weird—in a good way. Ryan—head brewer at Funky Buddha—loves to experiment. He approaches beer with a culinary style that leads to revelations like No Crusts, inspired by his daughter's current fixation on PBJ sandwiches with no crusts.
I have to say I was initially quite skeptical. Peanut butter and jelly in beer has the potential for catastrophe written all over it. Somehow, though, Ryan not only made it work, he made it shine. The brown ale base has strong enough flavors to stand up to the added peanuts and fruit. The peanuts and fruit, themselves add flavor without killing the beer with too much sugar.
Their Maple Bacon Coffee Porter was, if anything, more surprising. Ryan combines coffee, maple syrup, smoked malt, and smoked salt in a porter to create "breakfast in a glass." There is no actual bacon, but the smoke certainly evokes it. The flavor starts with a typical porter bitterness, then moves through coffee to smoke, salt, and a hint of maple at the finish with a lingering smokiness. It does give you the full breakfast experience, but you still know you're drinking a really good beer.
Revolver
Revolver first caught my attention with their big, rotating revolver display. Apparently I was not alone, as they also caught my attention with the big line waiting to try their beers. Revolver hails from just outside of Fort Worth, Texas, and they bring Texas sensibilities to their whole production. In addition to the huge rotating sign, Revolver was the only brewery with representatives out shaking hands and mingling with the patrons in line.
The beers themselves did a good job of living up to the spectacle. Blood & Honey golden ale is their riff on wheat beers. They add blood orange and Texas honey to their wheat beer to get a great blend of spices and fruit with just a touch of sweetness at the finish.
Mother's Little Fracker also balances bitterness and sweetness really well. The roasted malts really play well with the Summit and Challenger hops to make a really rich and complete stout.
Wicked Weed
I have to confess, my initial exposure to Wicked Weed left me unimpressed. I heard great things about their Pernicious IPA, but it struck me as a little muted. To be fair, I was in the midst of a flight of strongly hopped IPAs, so that may have had something to do with that. Wicked Weed drew a lot more raves at the GABF, so I was happy to give them another shot.
My second try convinced me that Pernicious had gotten lost in my hop-flight overload. Its blend of 7 hops gives Pernicious a very complex hop character that blends well with its balancing malts. It's very solid, but don't drink it in the middle of a hop-fest or it can get lost. You certainly won't get the full effect.
The highlight of Wicked Weed's offerings to me, though, is their selection of sours. Their Framboos Morte, for example, is a really great raspberry sour. Wicked Weed starts with a blend of 8 and 24-month red wine barrel aged sours and add 4 pounds of raspberries for each gallon. The result is a very funky, tart sour with a lively raspberry finish.
Black Project
Black Project also specializes in sours, but they take their specialization to another level. They only produce naturally fermented sours. Owner and brewer James Howat started Black Project as a side venture, but it has become so successful that it has become his full time venture.
Black project uses a coolship to spontaneously ferment its beers. Conditions need to be just right for everything to progress correctly, which means Black Project can only use the coolship in Fall and Winter. The results are truly terroir-specific beers that boast very complex and unique flavors. Oxcart American Lambic, for example, is a great representative of what they do. It's both tart and balanced, but has funky notes that distinguish it from other sours.