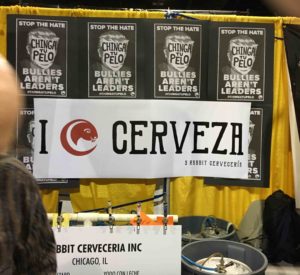 While only one Trump beer made it to the GABF, another brewery had a more direct experience with The Donald. Chicago's 5 Rabbit Cerveceria is the first Latin American-inspired craft brewery in the US. They make some really interesting beers that highlight Latin American culture and ingredients.
Their quality products earned them a contract to produce the house beer for the restaurant in Chicago's Trump Tower. The team was both proud of and excited for this opportunity, and then Trump ran for President. Hailing originally from Costa Rica, owner Andres Araya couldn't just swallow Trump's insults and carry on. While the contract offered very coveted exposure, Araya couldn't stomach the idea of compromising his principles and pulled out of the deal.
Fortunately, 5 Rabbit escaped the typical wrath of The Donald lawsuit, but they were left with a whole mess of beer. That's not usually a problem for a brewery, but this beer wasn't a typical 5 Rabbit offering. The restaurant wanted a simple blonde ale, so 5 rabbit brewed one up. Without their customer, though, they weren't quite sure what to do with it.
The Donald, though, actually helped out at this point. Trump's continued anti-Latino rhetoric convinced 5 Rabbit that their homeless blonde ale would be the perfect anti-Trump protest. Chinga Tu Pelo was born. For those of you, like me, who don't speak Spanish, "Chinga Tu Pelo" translates roughly into "fuck your hair."
Chinga Tu Pelo was an immediate hit. Fans of 5 Rabbit quickly drank up the whole batch. Surprisingly enough, 5 Rabbit has so far escaped the wrath of the ubiquitous Trump fanatics. The worst reaction they've had was when one unhappy Trumper immediately poured out his Chinga Tu Pelo in protest. 5 Rabbit isn't sure if they will make more simply because the beer that became Chinga Tu Pelo isn't one of their favorites. Clearly, though, neither is Trump, so you never know.
Even though I would have loved to have had another Trump beer to try at the GABF, the beers 5 Rabbit did bring did not disappoint. I've had a few of their beers before, but both the Prickly Pear Paletas and the Yodo con Leche were new to me.
Prickly Pear Paletas, as you might have guessed is a prickly pear infused wheat beer. The bright pink color is a little shocking, but the beer is not some bubblegum sugar bomb. The prickly pears add a unique tartness to the mild spices of the crisp base beer to make for a great late summer drink.
Yodo con Leche, on the other hand, is every bit a full-bodied porter. Every year, Araya returns to Costa Rica to pick a small batch coffee to craft a beer around. This year's version is remarkable. Full disclosure—I'm not a big coffee fan. By that I mean I don't really like coffee. I don't drink it, which means I don't usually like coffee beers. To me, most of them are first, too coffee, second, too sweet, and third, just heavy handed. Yodo con Leche is the opposite in every way. The coffee and the porter balance each other perfectly because the coffee is delicate and lively. It has a depth of fruit and flowers that are remarkable in a coffee porter. I am surprised to say this was one of my favorite beers of the GABF.
5 Rabbit caught my attention with their anti-Trump protest, but their beer reminded me why I liked their products to begin with. Regardless of the politics, 5 Rabbit brews great beers.