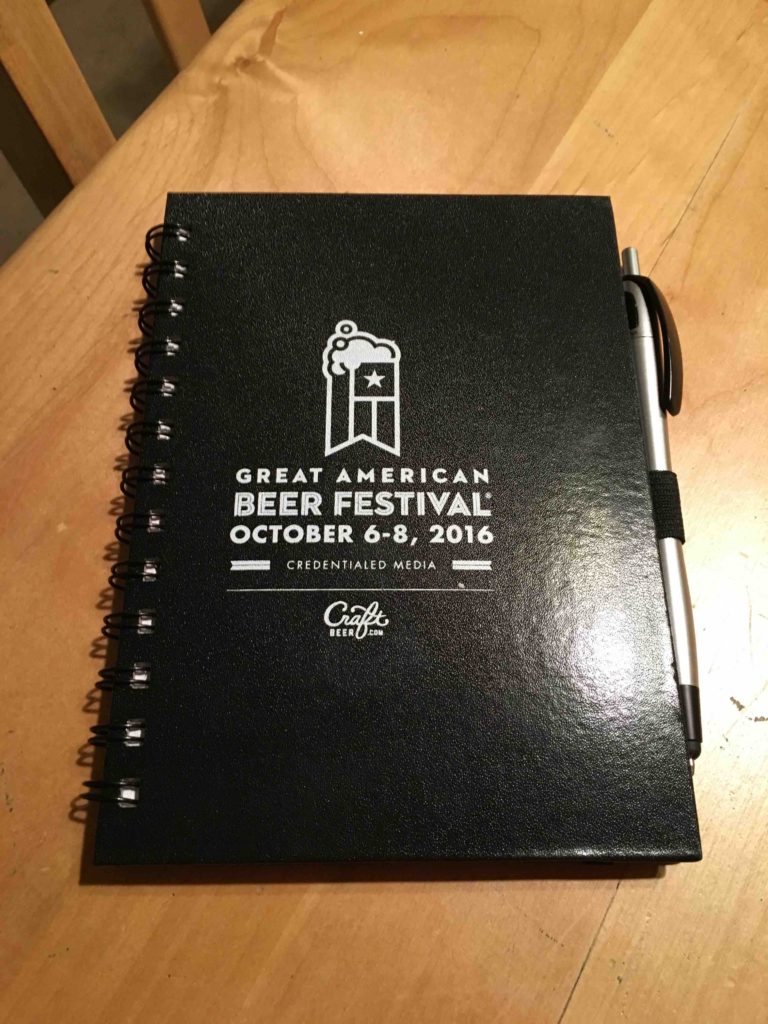 Day 2 (for me) at the GABF was even more fun than Day 1. I mooched a ride with the Steves, the official favorite home brewers of DFTB, and compared a lot of notes with them. We all touted our personal favorites then challenged each other to find the worst beer. More on that later, but the Steves won.
How to Media
So I finally figured out the whole media access thing. Skipping over my allergy to standing in lines, holding up the line when I get to the front to talk to brewers isn't very appealing or useful. I need more than 10 seconds to ask the questions I have. As it turns out, brewers are more than happy to talk when I approach them away from the line. That way, I can learn what I need to know, and they can give me the beers they think best represent their breweries. Walk up and ask questions; they offer beers—boom. Problem solved.
First Beer
I used my new approach to talk to Chris from Cigar City. He started my day off with his Guayabera Pale Ale. This pale uses plenty of citra hops for a great hoppy nose and a great floral hop flavor. The malts balance this beer really well—very refreshing. Cigar City was one of my favorite new to me breweries of the GABF. I'll expand on my conversation with Chris in a future piece.
Favorite Discovery
I can't take credit for this. I sought out Überbrew immediately after they were named small brewer of the year. The lines were still short, and the brewers were thrilled to share their happiness and their beer. They won 2 golds, a silver, and bronze this year, and all of those beers are very solid. I especially liked their Humulus Insani Imperial IPA. It has a very dank hop aroma, a strong hop bite, and great balance from the extra malts you find in a double IPA. It's a well-deserving winner.
Biggest Mystery
Why make the effort to schlep your beers and staff to the GABF and abandon your booth to the green-shirted festival volunteers? Don't get me wrong, the volunteers do a great job. This is not a critique of them at all. They simply can't know enough about the beers they are pouring unless somebody from the brewery is there to back them up. They also don't share the passion. Unless a brewery was on my "can't miss" list, if no one from the brewery was there, I moved along.
Worst Beer
I'm not going to call out any brewers for their beers here. I know how much work they put into their beers. I also know what kind of passion it takes to pursue your dreams. Some beers don't work out, I get that. The last thing I want to do is say "you made the single worst beer I tasted." That said, all of the beers I tried that were downright bad fell into the same trap. Just because you can put something in a beer doesn't mean you should. Add everything you want as long as it enhances the flavor of your beer. When it takes over the flavor of your beer, something has gone wrong. When your beer that Steves foisted on me tastes like a mouthful of Koogle peanut butter, something has gone horribly wrong.
Last Beer
My last beer of the day was the rather understated Table Beer by Benchmark Brewing. I'm sure the brewer would be able to explain why they offer it, but he left the booth to the green shirt volunteers. The volunteer's description of it was "It's completely average." Honestly, that's a little unfair. As a Belgian Session Ale, it is weaker than your typical Belgian Dubbel or Trippel, but it's clearly supposed to be. If you want a session beer that's a bit different than your typical session IPA, Table Beer is not a bad choice. It has a low alcohol content and definitive Belgian spice and yeast flavors. At the end of the day, I didn't need another heavy beer. I could have used a better sales pitch, though. I'd make a note of that if I went to the trouble of bringing my beers to the GABF
That's it for now. Still much more to come.