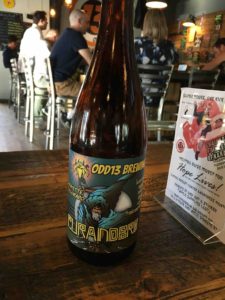 With the Great American Beer Festival set to kick off in just two days, local breweries are scurrying to get everything ready. Brandon Boldt, Head Brewer at Lafayette's Odd 13 was kind enough to let me pester him for a few minutes while he started working on his next batch of beer.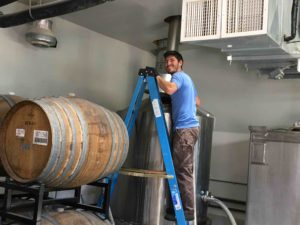 Odd 13 is sending 5 beers to this year's GABF—Codename: Superfan, Odd 13's flagship American IPA, Noob, another American IPA, Vincent Van Couch, a session sour, Duraznador, a fruited Berliner Weisse, and Curandero, a special edition tamarind-infused dark sour.
Brandon is especially proud of the Curandero. It is a great example of Odd 13's collaborative inspiration process. Someone brought a Central American tamarind candy into the taproom, and it turned into a beer.
The process, of course, isn't quite that simple. Brandon created the dark sour base using yeasts he collected from his favorite wild yeast beers, added tamarind puree, and aged the result for 6 months in 3rd use oak cognac barrels.
The result is a truly great balanced dark sour. The aroma of Curandero is tart cherry, and the initial taste reinforces that with a perfect burst of sour. The tamarind is subtle, but kicks in at the end with a wonderful earthy balance that finishes each taste. Brandon thinks Curandero is Odd 13's best chance at a GABF medal, and it's hard to disagree with that.
Medals, though, aren't really why Odd 13 goes to the GABF. "We look at it mostly as a chance to thank our customers and fans," says Brandon. To win at the GABF, as it turns out, you really have to target your brewing to the categories. Odd 13 and Brandon like to target great beer, and figure out what category it fits into later.
Superfan is a good example of what Brandon means by that. I've had several GABF IPA winners, and, to me, Superfan compares very favorably with all of them. According, to Brandon, though, Superfan could never win the IPA category because it's slightly hazy. That only knocks about 3 points off your score, but with so many IPAs brewed to hit the standards of the category, those 3 points are huge. Brandon could tweak the recipe to improve the clarity, but that's not Odd 13's style. They like Superfan as it is. The quality of the beer is more important to them than the medal.
That attitude perfectly sums up why Odd 13 is one of the most interesting young breweries in Colorado. They take pride in what they do. They make good beer. If that beer isn't the best cookie-cutter example of a certain style of beer, so be it. So far, that attitude has made them a hit in Lafayette and garnered them enough fans to fuel a new distribution deal that covers most of the state. You can now look for Odd 13 beers in your local store. And if you are going to the GABF, make sure to look for a taste of the Curandero.
POST GABF UPDATE: Brandon followed-up with a little more about the origins of Curandero. Former assistant brewer Kevin Gallagher came up with the idea for the base recipe. Unfortunately, Kevin had to leave the industry due to chronic back pain, but he certainly left on an impressive note.
As expected, Odd 13 didn't come away with any GABF beer medals, but their impressive display did win them the nod for best small booth.  Overall, they had a great weekend sharing their beer and meeting fellow craft beer enthusiasts.