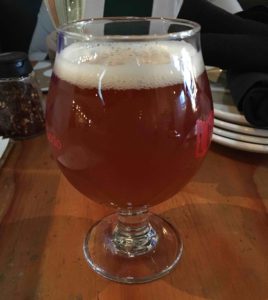 21st Amendment is another brewery new to Colorado. I first encountered their beer in a taproom on Fisherman's Wharf in 21st Amendment's hometown of San Francisco. They make a lot of solid beers—a welcome addition to the craft beer scene anywhere.
Blah Blah Blah is 21st Amendment's poke in the eye to all the different sorts of IPAs flooding the market—single, double, imperial, dry-hopped, wet-hopped, double-dry-hopped, and on, and on, and on. In other words, call it what you want—here's our beer.
And Blah Blah Blah delivers. It's an imperial red along the lines of Oskar Blues G-Knight (nee Gordon). Its red color comes from stronger, sweeter malts than you find in traditional IPAs. The nose hits you with a big piney hop aroma from the blend of 7 hops 21st Amendment uses. The flavor starts strong with hops but quickly gives way to a slightly sweet malty finish. The hops are very forward, but they don't overwhelm the flavor. The end result is a very mellow, balanced beer.