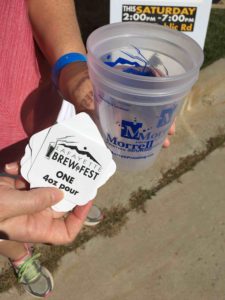 I had a lot of fun at the Lafayette Brew Fest. The Official Wife of DTFB, 2 very good Official Friends of DFTB, and I made an afternoon of it. We even ran into one half of DFTB's Official Favorite Homebrew team. We tasted a lot of beers, talked to a lot of brewers, and had a great outing.
Great Format
First, in praise of the format—these smaller beer festivals are great ways to taste some new beers without having to force your way through the crowds and drunks you'll find at larger gatherings. I'm not a big fan of the 4 oz. taste format, but every brewer I approached was more than happy to give me smaller pours of multiple beers so I could sample as many beers as possible and still stay upright.
That said, I did not make it to all 22 breweries. Even at 4 ounces per brewery, I would have needed to channel my college-aged self to pull that off. My apologies to those I simply ran out of stamina to get to. The rest that I missed, well more on that in a second.
Amazing Brewers
Second, in praise of the brewers—every single brewer I talked to was very friendly (I know—not too much of a surprise at what is essentially a marketing event) and very happy to tell me more about their beer. I learned quite a bit about some new breweries and new details about some old favorites.
Cans and Bottles?
Third, the big disappointment—at least six of the 22 breweries showed up to only pour beer from cans or bottles—nothing on tap. Years ago, when Oskar Blues first started canning, this was acceptable as they had something new to prove. Now it's just laziness. If other breweries can bring draft beer, why can't you? You really want me to pay $2 for a four-ounce taste or $6 for a whole can's worth of the same beer I can buy for $1.50? I'm talking to you Oskar Blues, Upslope, Edyline, Finkel & Garf, Avery, and The Post. I like beers from all of your breweries, and I was looking forward to trying more. You really missed an opportunity to showcase your stuff to new customers.
The Good Stuff
OK—now that that's out of the way, let's get to the beer. Every brewery I tasted beer from had something worth trying again. There were a number of new breweries worth checking out, some breweries I just hadn't had a chance to investigate, some new beers from some old standards, and one brewery back from the dead.
An Old Friend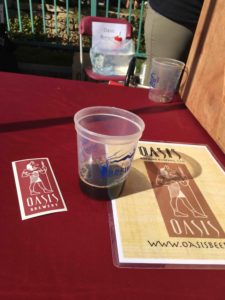 I was very pleased to see the reincarnation of Oasis Brewing in attendance. Oasis was one of the first breweries I visited when I moved to Boulder. Their brewpub and restaurant was a regular fixture on our list of places to eat. The Official Daughter of DFTB even made one of her earliest debuts there, staring contentedly at the huge ceiling fans while The Official Wife and I scarfed down our food.
Oasis, unfortunately, went out of business a few years later, but now they are back. It's a brewery only this time, but the beer recipes are the same. Both the Capstone ESB and the Zoser stout they were pouring have won multiple GABF and World Beer Cup awards. Needless to say, they are very solid beers. The ESB is more or less an English style pale ale. It has a very strong hop flavor that is balanced well with rich malts. The stout, as you might imagine, is very malt-forward with a lot of roasted flavors going on. It's balanced with a nice, but not overpowering, layer of hops.
New Breweries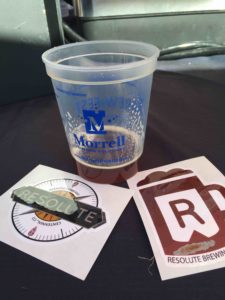 I tried beers from 2 new breweries that both had something good to enjoy. Resolute Brewing has been open all of 3 weeks in Centennial. Their Amber caught my attention. It has the malty hints of a traditional German märzen, with a dash of extra hops. This is a good transitional beer for wrapping up summer and heading into fall.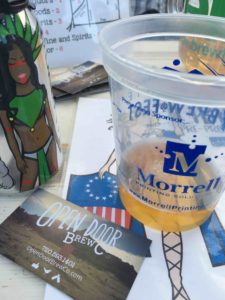 Open Door is a new brewery still in search of a taproom. Don't let that stop you from checking out their offerings in some local brewpubs and liquor stores. Their Hopgave was the most unique beer I tried at the Brew Fest—in a very good way. It's essentially a pale ale that Open Door amps up with agave—yes, that agave that makes tequila. This combination is surprisingly nuanced and deep.
New to Me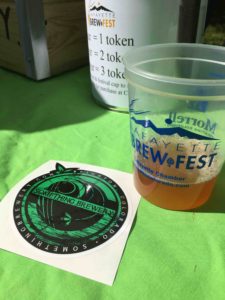 The Official Wife actually beat me to Something Brewery in Brighton a couple weeks ago. They specialize in infused beers. They like to play around with, tea, fruits, and other additions to make some interesting flavors. Their Beer Chocolate surprised me even more than Open Door's Hopgave. I don't like sweet beers, but Something's Beer Chocolate goes heavy on the chocolate and light on the sweet. The dark roasted malts really play well with the chocolate.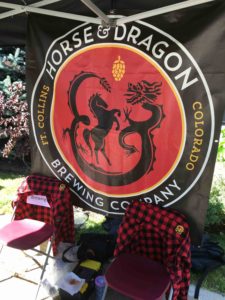 Horse & Dragon is part of the growing craft beer scene in Fort Collins. I've not been to their taproom, but it's on the list for my next day trip up north. Their stand was my first stop of the day, and their Kölsch was a perfect beer to kick things off. Its crisp balance of malt and hops was exactly what I wanted after walking over in the heat.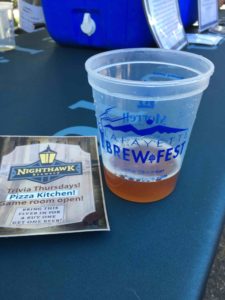 I've seen Nighthawk Brewery's tap room in Broomfield a few times. It's located right by the indoor hitting facility the Official Son of DFTB frequents. I've unfortunately never had a chance to stop by. I'll rectify that soon. I really enjoyed their pale ale. The hops were nicely balanced with the malts for a great overall flavor. Next time the Official Son doesn't need me to throw bp, I know where I'll wait for him.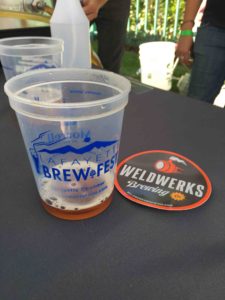 Weldwerks Brewing is my favorite new discovery from the Brew Fest. They're located in Greeley—admittedly a fair bit out of the way from Boulder County, but definitely worth a trip if you are anywhere near the area. My favorite of their offerings is Juicy Bits. Juicy Bits is a New England style IPA packed with a large hops punch but balanced with a perfect malt blend on the back end. The tropical fruits from the hops really shine through. And if you need more fruit, try Fruity Bits—more or less the same beer amped up with Mango. Both were very memorable.
Most Improved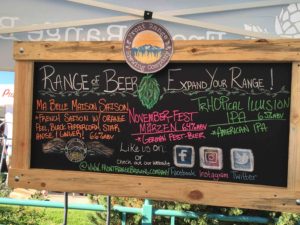 Admittedly, I haven't been to the local Front Range Brewing in a while. As it turns out, I've missed a change in brewers. That means I've also missed out on some radically improved beers. In the past, I like the TrHOPical Illusion IPA well enough, but it was a little one note—lots of hops. No more. The new incarnation has a much fuller and balanced flavor. You certainly still get the tropical fruit from the hops, but now the malts have enough character to balance the beer and take the whole thing to another level. Note to self—I can walk to their taproom.
Best of Show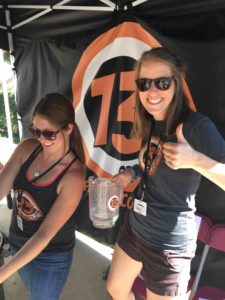 My favorite brewery at the Fest was Odd 13. I know, you've heard me sing their praises before, but I swear I'm not on the payroll (although I do come cheap…). Their Superfan IPA, though, is still the best Colorado IPA out at the moment. It's big, juicy, and hoppy—carried by great tropical fruit aromas and flavors, and perfectly balanced to finish clean. It's available in cans if you can't make it to the taproom. Odd 13 was also pouring Hawaiian Bartender—a sour with pineapple and mango. I'm a big fan of sours, pineapple, and mango, so it's right up my alley. The fruits and the sourness really play together well to make a very refreshing beer.
Signing Off
After all that, I still managed to walk home, light the Official Grill of DFTB (charcoal and wood only, please—Don't Gas the Grill), and cook some steaks without burning anything down. I have to say this year's Brew Fest was a success. If I'm in charge, though, I'm telling a few brewers to bring some kegs next year. Your audience is out there. Let them know you care about all of them