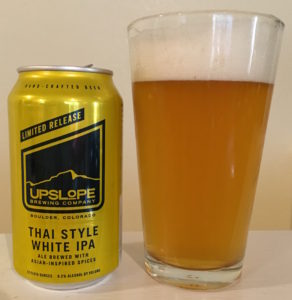 Upslope is one of my favorite local breweries. I'll give a full review of their taproom at some point. I've been known to stop in once in a while. I wanted to highlight one of their seasonal offerings while it is still out, though. Upslope's Thai Style White IPA is one of the beer highlights of summer for me.
As a white IPA, it has a less and lighter malt that most IPAs. That makes Thai IPA a relatively light, easy drinking beer despite its 6.5% abv. The hops are nicely forward as you would expect from a solid IPA, but Thai IPA balances them with spices and yeast rather than malt. You get a slight sweetness from the Thai basil, a lemony hint from the coriander and lemongrass, and slight banana finish from the Belgian yeast.
Admittedly, that sounds a bit strange. And, to be honest, if you drink Thai IPA by itself, the spices can detract from the hops if you are looking for a pure IPA experience. If you pair Thai IPA with the right food, however, it just sings. Upslope recommends Pad Thai or seafood. I think they miss the mark, though. Crack one of these open with a Thai or Vietnamese curry and it will blow you away. The slight sweetness and alcohol cut through the heat of the curry, and the spices just bring everything together. Grab a six-pack of Thai IPA and order some carry out before it's too late.