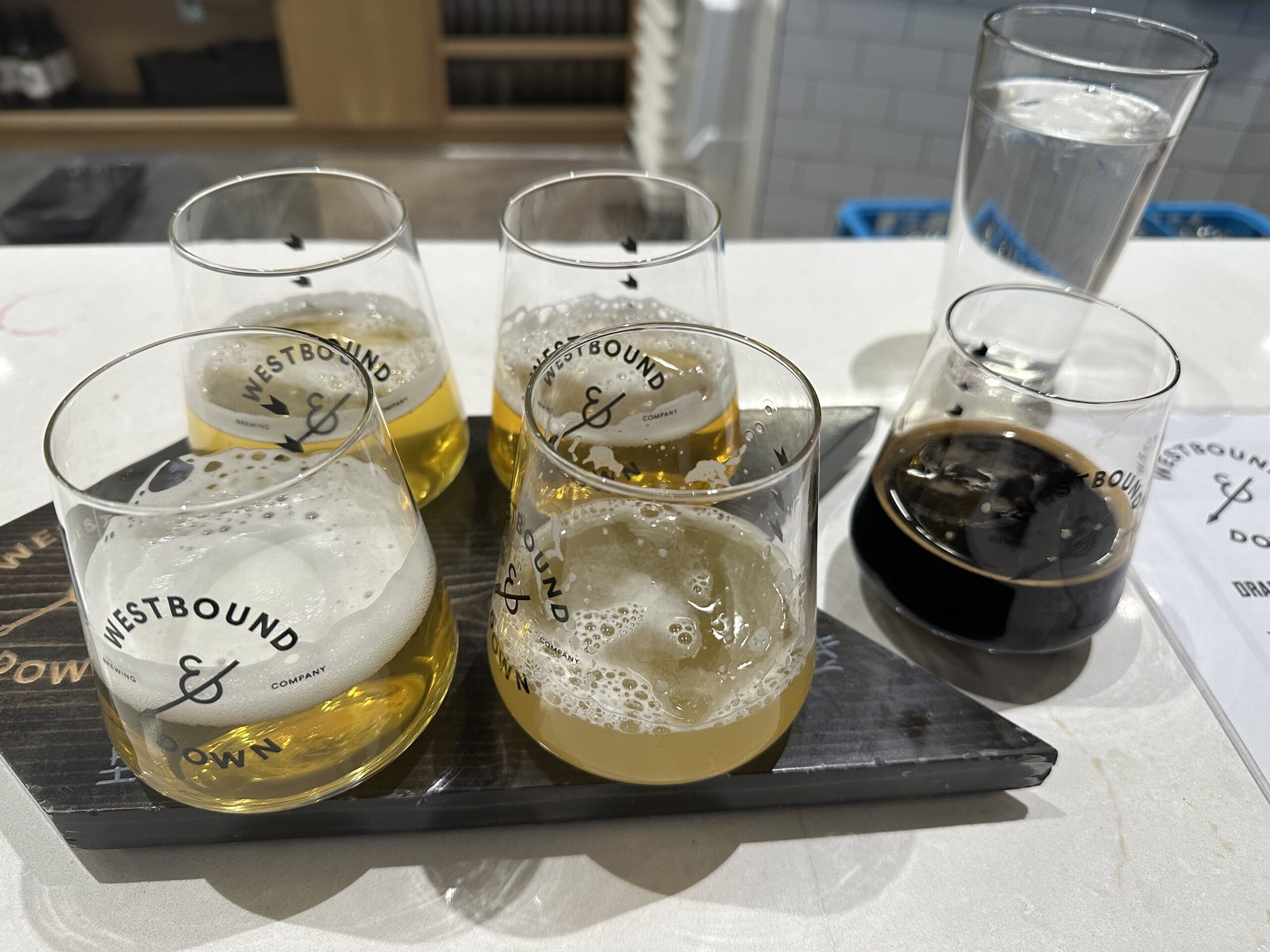 First things first.  I have to acknowledge a tactical error.  Despite getting several recommendations from official friends of DFTB about Westbound and Down's beer AND pizza, DFTB and the official wife made this first visit after dining at our favorite local Indian joint.  Now, it's never a mistake to dine at our favorite local Indian joint, but Westbound and Down seems best enjoyed as both a beer and pizza joint.  DFTB can't speak definitively to this, but everything looked and smelled very appetizing.  I will be making a return visit to test this theory soon.  And the restaurant side of the tap house was hopping, as was, to finish the penitently bad pun, the brewery side.
Hopefully everyone has had enough time to groan, so we'll move ahead.  In addition to hearing good things about the pizza, I'd heard very good reports about Westbound and Down's west coast IPAs, so that's where I focused my tasting.  The first thing I noticed right away is that Westbound and Down doesn't follow the conventional hop profile I've come to expect from a west coast IPA.  Where many traditional offerings hit you with dank piney bitterness, Westbound and Down leans into a mellow berry and tropical fruit flavor.  They balance this with a lighter malt backbone, so the beers finish very clean.
My first west coaster sample was a single hopped mosaic version.  Of the three I tried, this was the sweetest.  It was honestly a little sweet for me.  The standard Select and its blend of hops was a bit more balanced.  It struck me as very much a crowd pleaser.  The double dry hopped version resonated best with my particular palate.  It added just a touch of the dank bitterness that I look for in my IPAs.  This three-pronged strategy is pretty clever.  It provides entry points for different tastes and avoids the typical taste-bud blowout that can accompany some of the hop bombs we've come to know and love.  Not a small concern, I imagine, in a place serving food and beer.
After enjoying my trip through the west coast IPA selection, I wrapped up my visit with one of Westbound and Down's barrel aged stouts.  I was glad I did, because the barrel-aged Double Absence is a remarkable beer.  The malt flavors of coffee and chocolate lead right into a subtle vanilla that plays perfectly with the bourbon flavor from the barrel.  The mouthfeel is, well, unctuous.  It's like pouring Uriah Heep down your throat, without, of course the attendant sniveling and scheming (if you thought DFTB would pass up the opportunity to drop a Dickens reference, you haven't been paying much attention, and the ghost of AP English teachers past would certainly plague me if I did). The 15.3% ABV lends a gentle burn at the end that is the perfect finish for a bourbon barrel-aged beer.
All in all, Westbound and Down is definitely a welcome addition to the Boulder County beer scene.  I'll be heading back to see exactly how well their beer pairs with the pizza very soon.