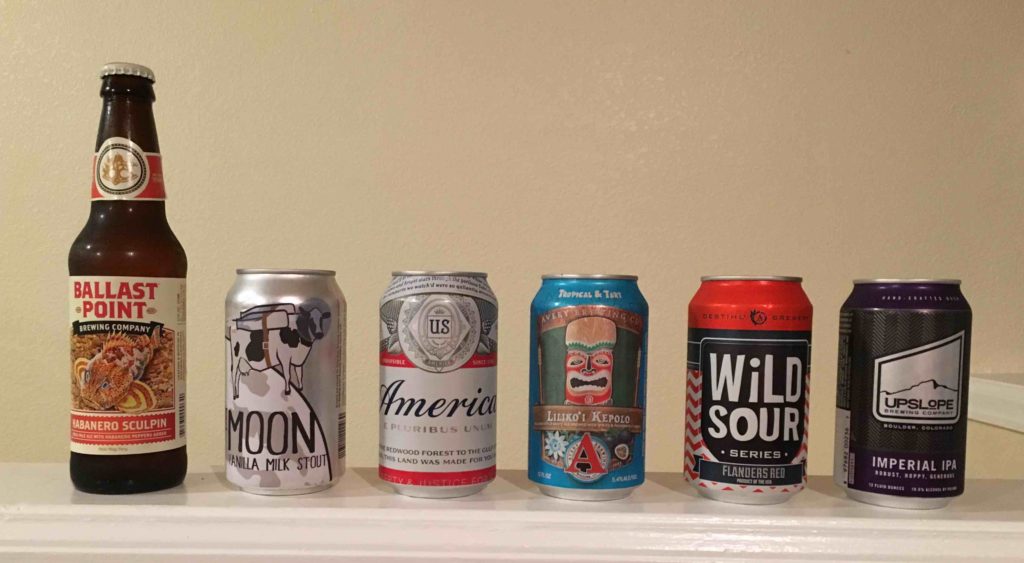 If you are trying to figure out how to enjoy the upcoming debate with a beverage of your choice, there are plenty of drinking games floating around social media. They will be more than happy to addle your wits while you try to make it more than 10 minutes in.
If, on the other hand, you want to add a little scientific rigor to your drinking, the official DFTB Bipartisan Beer Drinker's Guide to Surviving and Scoring the Debate (BBDGSSD for short, obviously) is here to save the day.
First, a public service announcement—don't play this game—er…attempt this study by yourself. Drinking 6 beers in an hour and a half is never a good idea. Not only will it more than likely do serious damage to your bathroom, but it will also invalidate all your hard work by reducing you to a slobbering moron. [Insert joke about being perfect to fill in for the opposing candidate here].
The…Completely Scientific Experiment
Anyway, on to the game—study. Yes, study. First, as you might have guessed, you need 6 beers. Next, each player needs 6 glasses. Divide the 6 beers evenly between the players. 6 beers works for 2-3 players. Add more as necessary.
The six beers correspond to the 6 categories of comments our intrepid debaters are likely to use. Each category gets a beer. Your job as an official DFTB Debate Scorer is to take an appropriate sip of beer when the candidate you oppose says something that falls into one of the categories. If you are truly undecided, you can drink for both candidates, but be prepared for a short experiment.
Remember to pace yourself. Don't drain your glass the first time a category comes up. Small measured sips are the key to properly scoring the debate—and making it through awake. Whichever glass you empty first tells you how you scored the debate.
Excessive Jingoism
Presidential debaters love little more than extolling their patriotism for the benefit of some cheap applause. What better beer to note these utterances than America? Budweiser's tribute to jingoists everywhere is perfect for toasting faux patriotism on the stage.
Special Bonus Variant: If the candidate you are drinking for—er…scoring—likes to say how bad things are in the US, flip the America can upside down and take a sip each time you hear the doom and gloom.
Substitute beer: really, is there any substitute for America?
Personal Insults
There are sure to be a few zingers whipping back and forth. Nothing like a good personal insult to really leave a bitter taste in your mouth. That makes a double IPA perfect for this category. I'm going with Upslope's Imperial IPA. Plenty of hops to really drive that knife in the back.
Talking Point Two-Step
Another thing debaters love to do is ignore questions and slip straight into talking points. That always makes me feel sour so—voila—sour beer. My choice is Flanders Red from Destihl. It's a nicely balanced Belgian red sour that has more than enough kick to make me call for the moderator to jump in.
Crazy Ideas
Candidates love to tout their policies at debates. Some have been know to veer off into fantasy. Whenever the candidate says something absurdly outlandish, take a sip of a fruit beer (since you can't really get a fruitcake beer—thank God). I'm going with Avery's Liliko'i Kepolo. It has a nice tartness to it that will give you a good jolt back to reality.
Note—do NOT just add fruit to a beer here. That's just wrong. And…and…and it will invalidate all your results. Yeah…invalidate…
Lies
Here's where it gets a little tricky to score at home. There are sure to be lies aplenty on the stage. As pants on fire has entered our fact-checking vernacular, what better to toast a lie with than a hot beer? (hot as in spicy—let's keep some decorum here). I'm going with Ballast Point's Habanero Sculpin. I've never had it before, but I like Habaneros and other Ballast Point beers, so here's hoping it doesn't disappoint.
Total Bullshit
Some lies are just too big to fall in the same category with the run of the mill political misdirection. For that you need a big thick stout. Bonus points if there is a cow on the label like Open Door's Over the Moon Milk Stout.
Declare a Winner
And there you have it. Drink your beers, empty a glass and declare a winner! My money is on the question dodge, but this year—who knows? Make sure to share your results. And—as always—share them at home or online—don't drink and drive.