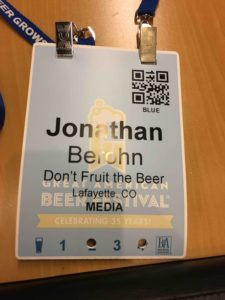 I had a great time at the first night of the GABF. The crowd was great—everyone was friendly. The brewers were as excited to be there as the ticket buyers. I'm taking the day off before heading back tomorrow, so here are some quick thoughts from yesterday's session.
First Beer
No, I couldn't resist. I used the early entry privileges that come with a press pass to snag something from Russian River. There was still a pretty sizable line of brewers, but it was much longer after the doors officially opened. Somehow, I found the strength not to have a sip of Pliny (yes, it hurt me…). Instead, I opted for their special release of Hoptime Harvest Ale. It's a wet-hopped single-hop beer using only Sebastopol hops. It's obviously completely different than Pliny, but a beer I am happy to have tried. It starts with a very hoppy nose and hits you with a mouthful of very smooth hops before balancing off the taste with its light malts.
Best Trend
Sours, sours, everywhere. Ok—this is a personal preference, but I've always liked sours. I am very happy to see that a lot of breweries are trying their hand at them. They're not all good (more on that in a future article), but it's nice to have the option to try them. I especially liked The Rare Barrel's Ensorcled. It's a barrel-aged dark sour with raspberries. It hard to describe it better than to say it's tremendous. The sour burst leads right into chocolately dark malts and hint of sweetness from the raspberries. It's a truly complete sour.
Biggest Mystery
I didn't understand yesterday what I don't understand every year. OK—stand in line for Russian River and The Rare Barrel. Why people feel the need to stand in line for places like Avery, Oskar Blues, and Dogfish Head, though, is a mystery to me. If I can get it at a taproom, I don't need to try it at the GABF. That said, this phenomenon keeps the lines short at the smaller places, so that works for me.
Biggest Disappointment
I was really hoping there would be Trump and Hillary themed beers that could lead right into a comic article. There is exactly one—ONE—Trump beer and ZERO Hillary beers. I mean—doesn't anyone do marketing at any brewery? This is an outrage! You'll hear more about this—believe me.
Last Beer
My last beer of the night was 1781's French Farmhouse Saison. It was accidental but somehow fitting to end with a tribute to the heroes of the Revolutionary War during the campaign season. 1781's French Farmhouse Saison is a very proper and tasty tribute to the Marquis de Lafayette. It's tangy and spicy like a typical saison. 1781 also adds a touch of rye, which makes the flavor a bit more complex than usual. The yeast and malts also give a nice balance to the hops.
Anyway—that's it for now. Much more to come after tomorrow's session.