Stone Enjoy By 09.05.16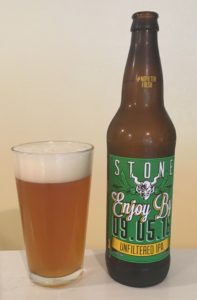 I've been doing my part and fully enjoying Stone's Enjoy By series since it debuted in 2012. If you're not familiar with the Enjoy By beers, you should seek them out. They are series of fresh IPAs made to expire at the date on the bottle.
Stone uses all sorts of different recipes and different hops combinations in these beers. The unifying characteristic of the group is that they are all very hoppy and very good.
The 09.05.16 is no exception. It's got that hops brightness you'd expect from Stone. It's also got a good smooth malt finish to it that you'd expect from a double IPA. The 09.05.16 checks in at 9.4% alcohol, so it's not a beer you're going to pound back. But it's also not heavy like a lot of higher alcohol double IPAs. You get a sharp hop burst and a smooth finish without an alcohol bomb overwhelming your mouth.
What makes the 09.05.16 unique and worth seeking out, though, is that it's unfiltered. I love unfiltered hefeweizens, but I've never seen an unfiltered IPA outside of some small batch releases at breweries. Where unfiltered wheat beers accent the flavors of the yeast, unfiltered IPAs concentrate the flavors and aromas of the hops. It's not overwhelming, but the 09.05.16 is definitely a little brighter and more assertive than most IPAs.
If you like IPAs, I'd try to grab one of these up before Labor Day. Don't worry if they're already gone, though. Stone will no doubt have another version out soon. You should definitely keep an eye out.