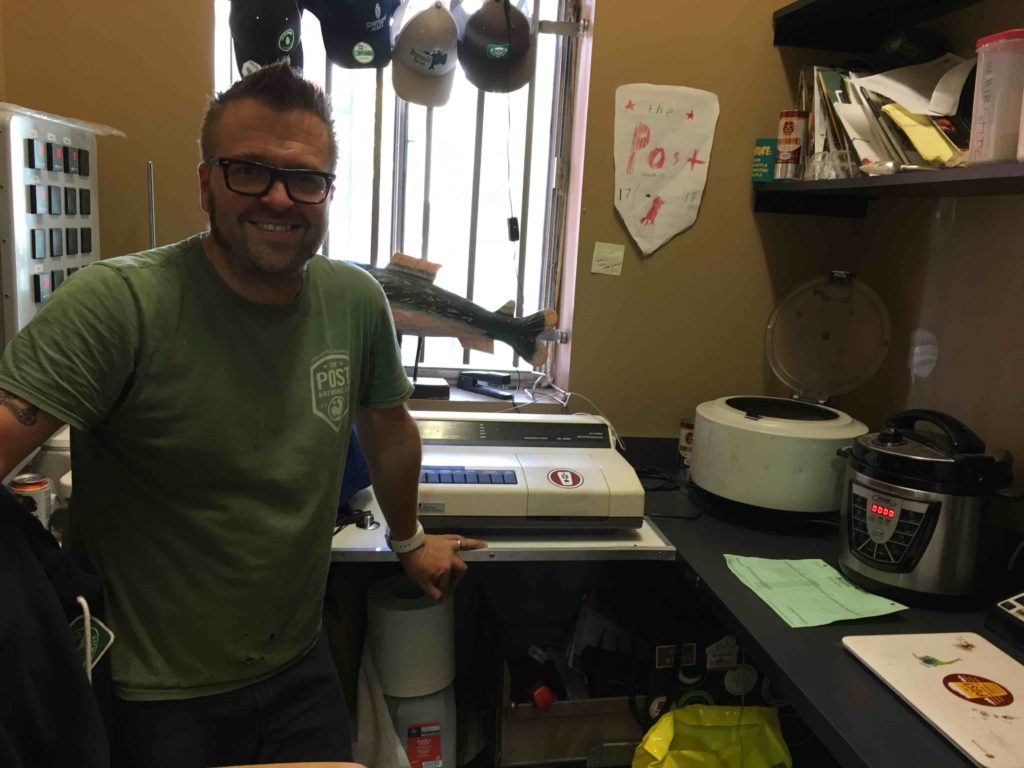 When word filtered out three years ago that the brewer at the new brewpub coming to Lafayette was from Dogfish Head, there was instant excitement in the local beer community. We were finally going to get our taste of the weird, strange, experimental beers that Dogfish Head teased with from afar. I say "we" because I bought into these expectations along with all of my friends. When it turned out that brewer Bryan Selders wasn't interested in making "look at me" beers, we didn't get it at first. We felt let down. I can honestly say now, that the problem was that we didn't get it. Bryan has stayed true to his brewing philosophy of simplicity and quality, and the results are tremendous. The GABF helped confirm this for the craft beer community by awarding Bryan and The Post their first gold medal this year for their Achtertuin Seizoen Farmhouse Ale.
Bryan knew there would be pressure on him from the RateBeer crowd to make beers that lived up to the Dogfish Head expectations. He trusted himself and his 18 years in the industry, though, and had the discipline to stick with what he knew was the best path for The Post. Bryan looks for complexity from his ingredients and brewing techniques rather than from weird and strange additives or recipes. His goal is simply delicious beer.
Another influence on Bryan is The Post's set up. It is both a restaurant and a brewery. Bryan wants his beers to be part of a holistic experience. The Post, to Bryan, is not a brewery that has a restaurant or a restaurant that has a brewery. It's both a restaurant and brewery at the same time, and the combination only works when both parts are in sync. Bryan and the Post's chef, Brett Smith, communicate constantly to find the best way to complement each other's flavors.
Achtertuin Seizoen Farmhouse Ale is a great example of this philosophy in action. Bryan named this beer after the afternoons he spent hanging out in backyards drinking beer back when he was an exchange student in The Netherlands. His tribute to his younger years starts with barley malt from Montana mixed with both wheat and rye malt. To that he adds a fairly generous helping of Sterling Willamette, and Pekko hops. He ferments Achtertuin with a French saison yeast, starting at 62° and building to 82° to limit the esters that fermentation produces. In other words, that's how Bryan keeps Achtertuin from turning into a bubblegum bomb.
The result is a beer that is truly deserving of its gold medal. Achtertuin is a very dry beer (.4° Plato, if you are into that), which makes it crisp, refreshing, and thirst-quenching. At the same time, it has a nice floral aroma from the hops and spicy kick from the rye. The saison yeast, restrained by the low fermentation temperature, adds just a enough of a hint of bubblegum and banana at the end to finish off the flavor in perfect balance. And, true to form, Achtertuin plays well with The Post's food. It is a great accompaniment to their deviled eggs and rotisserie chicken.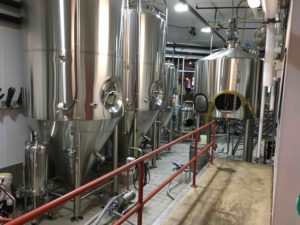 Achtertuin is far from the only good beer The Post has on tap, though. Since they have moved production of their canned beer to an offsite facility in Denver, Bryan can focus all his efforts on beer consumed on site and at other restaurants owned by The Post's parent company, Big Red F Restaurant Group. One of the best options on tap now is a special wet-hopped version of The Post's flagship Townie Ale. Bryan uses 300 pounds of fresh Colorado hops—Chinook, Cascade, and Nugget—to give Wet-Hopped Townie a great hop kick that combines floral, pine, and citrus notes. To keep this beer balanced, Bryan uses a shorter active brew to limit some of the harsher notes that can emerge from the hops. His efforts have produced a beer that really works. The hops are strong but not overly bitter, and the malts balance them without veering into sweet, giving Wet-Hopped Townie a dry, crisp finish.
The Town Tart is another beer that Bryan packs full of flavor. It's actually a beer that uses unusual ingredients, but it uses those extras to accent the beer, not draw attention to themselves. He starts this kettled sour with his favored Montana barley malt, adds wheat malt from a local farm, and a bit of flaked oats. A white tea blend with rose petals and jasmine rounds out the backbone of the beer. He uses a light amount of Sterling hops and the same French saison yeast as Achtertuin. He sours Town Tart with a single strain of lacto bacillus. Here again, Bryan uses technique to great effect. By lowering the pH of the beer to 3.3 during brewing, he accentuates the spiciness of the yeast and avoids the bubblegum flavors more appropriate to a saison. The final product is a well-balanced mild sour, full of floral and spicy notes.
All in all, it's clear that we've all benefited from Bryan's approach. His beers make any trip to The Post rewarding—and that's before you even get to the food. If you go—and you should—you'll love the chicken. But don't forget the deviled eggs or dessert. The whoopee pies are out of this world.
Oh–and they've probably got the best approach to the election I've seen yet.  I'm in!