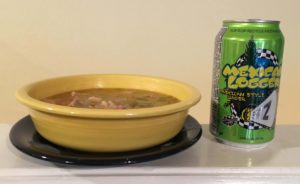 One of the underrated things you can do with beer is cook with it. That is, of course, assuming you don't cook with all of it—that would be wasteful. Late August / early September in Colorado mean that Hatch chilies have made their annual pilgrimage up from New Mexico. For me, that means that it's time to make green chili.
Green chili is a great beer food for a couple reasons. First, the alcohol in the beer helps cut the heat in the chili. Second, we're talking a cold beer when it's 85-90 outside—come on.   I've also discovered that green chili is better when you actually make it with beer. Adding a bit of malt and hops makes the flavor more complex and highlights the fresh chilies.
You don't want to overdo it with the beer here, though. Good green chili is kind of light and vibrant—you really want the chilies to be the star. That makes a lighter lager or a pilsner the best sort of beer to use. A dark beer adds too much sweetness; an IPA adds too much bitterness. Both throw off the balance of the chili. A lighter beer adds a splash of flavor without overwhelming the other ingredients.
There are a lot of Mexican beers that would fit the bill here, but I like to stick with craft beers whenever I can. That means for green chili, I like Ska's Mexican Logger. As you might have guessed, it's a Mexican style lager. The light malt keeps it very crisp and refreshing, and the saaz hops balance the beer nicely. It's a perfect beer for adding to the green chili and drinking while you eat it.
As for making green chili, if you've got a favorite recipe, try replacing 24 ounces of the liquid you use with 2 beers. If you don't, here's the most evolved version of my version. Note—whatever beer you choose, pick something you would drink. If you wouldn't drink it, why cook with it? Note #2—you can use canned chilies if you absolutely must, but it won't be as good. Note #3—all measurements are approximations. I go by taste and rarely measure anything when I cook. And come on—you're probably cracking into the beer while you're doing this. Do you really want to break out the measuring spoons?
1.5-2 pounds boneless pork, diced to about ¼ inch cubes (you can use anything here, although expensive lean cuts are overkill; I usually use shoulder)
2 large yellow onions, diced
10-12 tomatillos, diced roughly
4-6 roma tomatoes, diced roughly
6 cups chicken broth
2 12 oz. bottles or cans of light lager or pilsner
4-6 cloves garlic, minced
¼ cup flour
¼ cup olive oil (plus additional for browning onions and pork)
1 Tbsp. ground cumin
1 Tbsp. ground coriander
1 Tbsp. oregano (Mexican oregano, if you have it)
Salt and pepper to taste
First brown the onions in olive oil over medium heat in a stockpot. Add the garlic and cook for an additional minute. Next add the pork and cook until well browned. Then remove everything—including the juices—from the pot and put it in a bowl.
Next you want to make a roux. Heat ¼ cup of the oil over medium heat, then whisk in the flour 1 Tbsp. at a time. Continue whisking until the roux is a medium brown.
Now add back the onion, garlic, and pork mixture. Add in the tomatoes and tomatillos. Work quickly here to avoid burning the roux. It's OK if some sticks to the bottom of the pot. Finally add in the chicken broth and beer about a cup at a time and mix in thoroughly, scraping any browned bits off the bottom of the pot. Bring the mixture to a simmer. Add the spices and season with salt and pepper to taste. Reduce the heat to low and cook for an additional half hour to an hour, or until the pork is tender.
Serves 6-8 as a hearty stew. If you go that route, serve with limes, grated cheese, fresh cilantro, and tortillas. You can also use your green chili as a sauce for your favorite Mexican or Tex-Mex dish. I particularly like it on cheese enchiladas. If you have any of your beer left, obviously serve that, too.