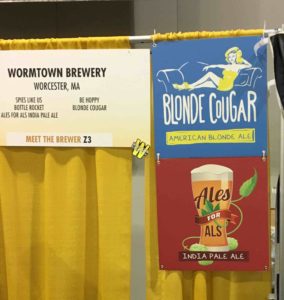 One of my favorite parts of the GABF is trying beers from small breweries I've never heard of that don't have any lines. There are always some misses, but there are some really good beers out there by these lesser-known breweries. Here are some of my favorites from this year, presented in the order I tried them.
Mad Anthony
I tried to balance out all the heavy beers I tried with some lighter styles whenever the brewer recommended them. Mad Anthony's lager was probably the best lager I tried. It was smooth, mild, and crisp with just a hint of sweetness at the end as balance. It's a very good example of what lager can be.
Cruz Blanca
Cruz Blanca reinterprets European beers into their Mexican-styled beers. I really liked their Smoke Alley dry-hopped smoked wheat. It starts with a crisp hoppiness, mellows with light malts, finishes with a subtle yeast spiciness. The mild smoke flavor accents the beer without overwhelming it.
Alvarado Street
Alvarado Street's Eureka single hop IPL is the first IPL that I really enjoyed. Usually, I find that extra hops don't play well with lagers, but Alavarado Street makes it work. Eureka hits you with a very dank hoppy aroma but then balances the hop burst really well with the lager malts.
Wormtown
Wormtown has a number of really solid beers. My favorite was their Bottle Rocket Pale Ale. The dank hoppy aroma and initial taste gives way to spicy rye notes that give the beer a really good flavor and balance. Bottle Rocket was my favorite rye beer at the GABF.
Fat Head's
Fat Head's isn't quite a hidden gem. It had some lines, but not as long as I would have expected.  It's also one of DFTB's favorite Cleveland stops. They deserve a mention, though, because their beer is tremendous. They make Hop Juice, one of the better double IPAs around. It's very dank, very full-bodied, very balanced, and very good.
Topa Topa
Topa Topa has only been around for 17 months, but they are off to a strong start. Their Nelson Single-Hop is a really good example of a Nelson Sauvin pale ale. It's very floral and very balanced.
Marble
I missed out on Marble when I visited Albuquerque this summer. As it turns out I missed out on some good beers. I really liked their bronze medal-winning pilsner. It's very crisp and clean with a very tasty grape must finish.
Seabright
Seabright Brewery's Cat Weist is making some great beers in Santa Cruz. I love beets, but I never imagined they'd work in beer. I was wrong. Her Mermaid Tail golden ale has strong lemon and blood orange notes and finishes with a really good umami earthiness from the beets. A dash of candy glitter adds the perfect touch of whimsy for mermaid.
Tennessee Brew Works
I really liked Tennessee Brew Works' Thai Basil Ryeman. It's a spicy rye farmhouse ale balanced with Thai basil. Basil Ryeman is another great example of using strange ingredients to make a good beer rather than just using them for the sake of saying you did.