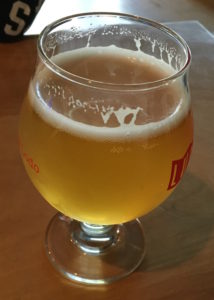 As we've established, if you don't have to bring your own fruit to the party, I very much enjoy beer brewed with fruit—as long as it's not too sweet. That makes Odd 13 a great choice for me, because they have a lot of fruited sours.
Rocky Melons is Odd 13's latest seasonal sour. It's a version of their Berliner Weisse sour brewed with Colorado Rocky Ford melons. That's fruited during the brewing—let's be sure about that. I'm not sticking a melon in my glass.
If you are looking for an overwhelming melony sweetness, Rocky Melons isn't for you. That's one of the reasons I like it quite a bit. The aroma has just a hint of melon, and the flavor is definitely sour first, melon second. It's tart and bright like a good Berliner Weisse and finishes with just enough melon to balance the flavor of each sip. It's a very good late summer beer. It's also kind of cool to be drinking beer with local ingredients. Not as cool as the ocean in Libertine Brewing's Gose, but we have to take what we can get out here.