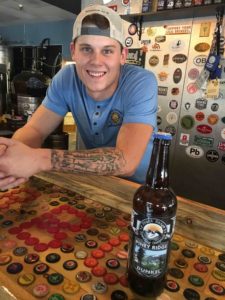 Front Range is on the board! Brewer Mitchell Nichols and the rest of the Front Range crew claimed their first ever GABF medal with a silver in the European-Style Dark Lager/Munich-Style Dunkel category with their Piney Ridge Dunkel. Yes, that category is quite a mouthful, and Piney Ridge is up to the task.
Mitchell, just 23, created the recipe for Piney Ridge as his very first professionally brewed beer. He's definitely off to a good start. Piney Ridge is not cloying or heavy like some dark beers. Instead, it is a crisp, light version of a German Dunkel. It balances its spicy hops with a great blend of pilsner, Munich, and caramel malts. There's a slight sweetness to the beer, which rounds out the taste nicely. It progresses from spice through caramel and chocolate notes to end with just a hint of sweetness at the end of the flavor. Piney Ridge is a very drinkable and flavorful dunkel.
It's also only one of several top-notch beers that Front Range is turning out these days. Three of their notable offerings right now are Colorado Fall Coffee Stout, Ma Belle Maison Saison, and a small batch Mosco Berliner Weisse.
Colorado Fall is a golden stout brewed with Ethiopian coffee and espresso chocolate. I was initially quite skeptical, as my previous experience with "golden stout" was not pleasant. Colorado Fall, though, really does taste like a stout. It is a little mellower without dark, roasted malts, but if you closed your eyes while drinking it, you would still know you were drinking a stout. The coffee and chocolate fill in for the heavier malts very nicely to create a well-rounded balanced beer.
Ma Belle Maison is also slightly different that most of your typical saisons. It's a little darker, almost along the lines of some French Country Ales I've had. While this may put off some saison purists, the added depth of flavors from slightly stronger malts serve to balance the orange peel, black pepper, and star anise Mitchell uses to add a spicy warmth to the beer. The finish then kicks in just a hint of bubblegum to round out the flavor.
Mosco Berliner Weisse is a small batch sour Front Range has on tap right now. It is a good example of how to add lime to a sour. Mosco—an homage to the ubiquitous Moscow Mule—brings both lime and ginger to Front Range's base Berliner Weisse. Unlike the lime-gose-as-margarita aberration that seems to be sweeping the industry, Mosco tastes like a sour that uses lime and ginger to balance the inherent tartness of the beer. The beer is not simply along for the ride. It is still the star of the show.
That sort of sums up the evolution of Front Range Brewing. Under its old management and brewing team, Front Range often seemed happy just to be making beer. With Mitchell now at the helm and new management in place, they've definitely upped their game. Their beers now bring complex flavor profiles that have people—and GABF judges—taking notice.