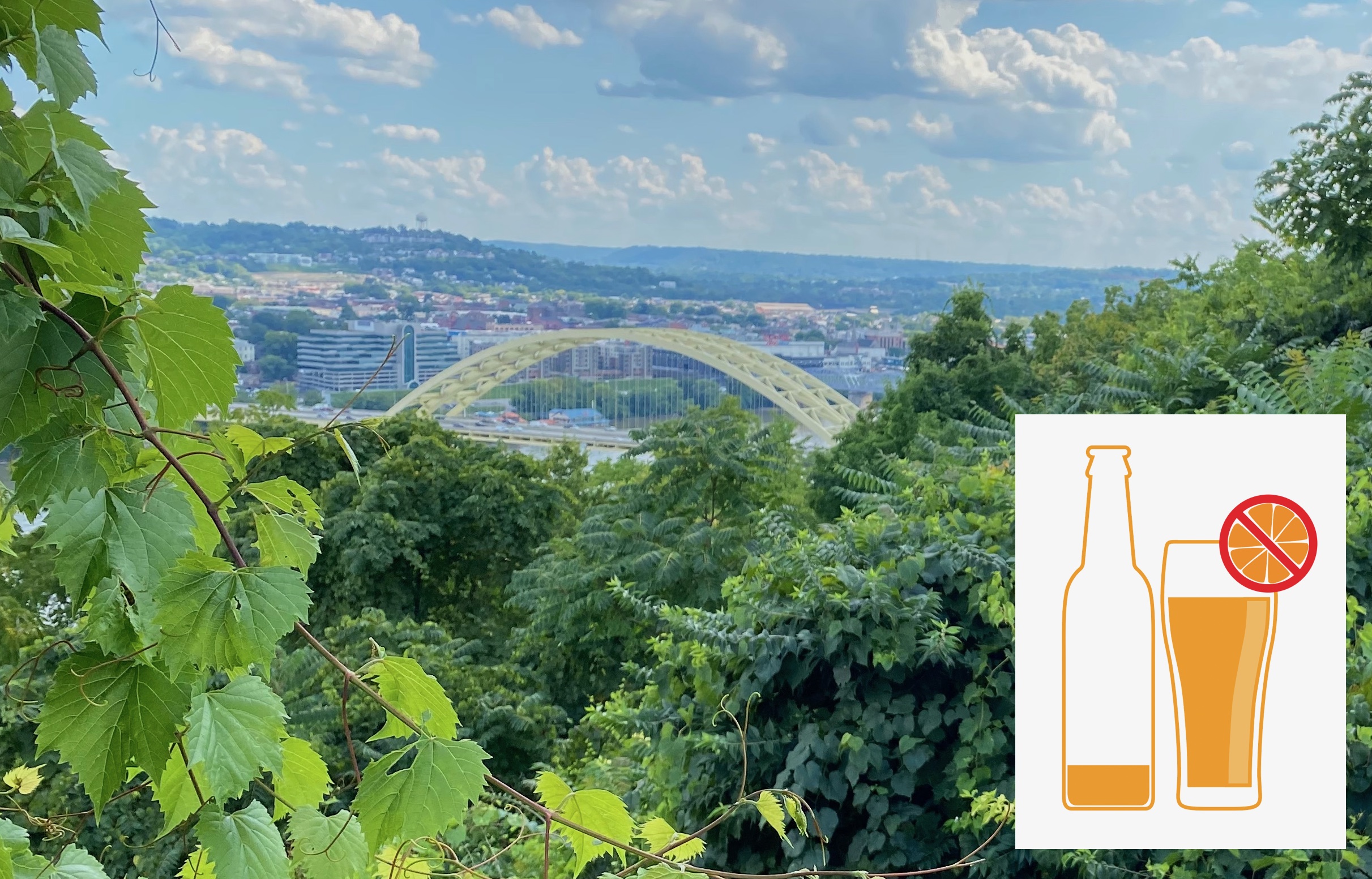 This has been a summer of travel for DFTB.  In preparation for a truly epic trip to Europe, the official wife and I embarked on a little road trip to Cincinnati to have a DFTB mini family reunion.  OK, little road trip might be a bit of a misnomer.  The official brother's house is a solid 1,219 miles from DFTB HQ in Colorado per google maps.  It was a relatively quick trip, though—1 week door to door.
The drive itself was (thankfully) uneventful.  Last summer, when we moved the official son to Cincinnati to start his first real job out of college, the luggage bag that we'd borrowed from friends very helpfully decided to burst its straps and jump off the roof of our car on I-70 in western Kansas.  Much fun ensued…
This time, though, the only notable event was our traditional stop at Joe's Kansas City BBQ (on the Kansas side of the border).  I know this is a beer story, but I have to mention Joe's.  We found the place through an old Anthony Bourdain article.  His review doesn't do Joe's justice.  If you are ever near KC, do yourself a favor and stop at Joe's.  There are a few locations, but the original, honest to God, gas station location is the best, by far.  You get to eat in an old gas station.  Anyway, everything Joe's serves is great, but be sure to get the Z Man and some burnt ends.  If you happen to show up when they are out of burnt ends, don't despair.  You have a ready-made excuse to return!
Now that we've gotten that out of the way, on with the beer.  Naturally, that meant going to a butcher shop/bodega near my brother's.  Lehr's Prime Market in Milford, OH is not your typical market.  They have great meat, as the name implies, and plenty of wine and beer in bottles and cans.  And, oh yeah—they have a bar.  A bar in a grocery store.  If we lived near Lehr's the official wife would never again have to complain that I don't like to go to the store for or with her.  She'd instead have to switch to complaining that whatever I was supposed to buy came home at room temperature.  Pick your poison, I guess.
At Lehr's I had a really good New England IPA from Third Eye Brewing.  It had a nice malt backbone to balance the hops, and it was not too sweet.  The tropical citrus bomb NE IPA's don't really do it for me.  I like a solid dose of bitterness to round out the hops flavor.  Third Eye definitely delivered that.  They are on my list of Cincy breweries to visit on a future trip.
I did manage to hit 2 breweries while we were there.  Little Miami Brewing was first up.  They have a really good red IPA and a hefeweizen that I've enjoyed on previous visits.  This time the star was Grateful.  It's a hazy west coast IPA.  No, I didn't know that was a thing, either.  I suppose you can make any beer hazy by simply not filtering it, but Little Miami puts the haziness to good use.  It makes for a very mellow beer, in keeping with the name.  I don't want to say it softens the flavors, but not filtering seems to make the hops and malt play together quite well.  I really enjoyed it.  And not just because I dumped myself out of a kayak into the Little Miami River that runs past the brewery.  I legitimately liked it enough to get a t-shirt.  Admittedly not too high a bar for me, but a bar nonetheless.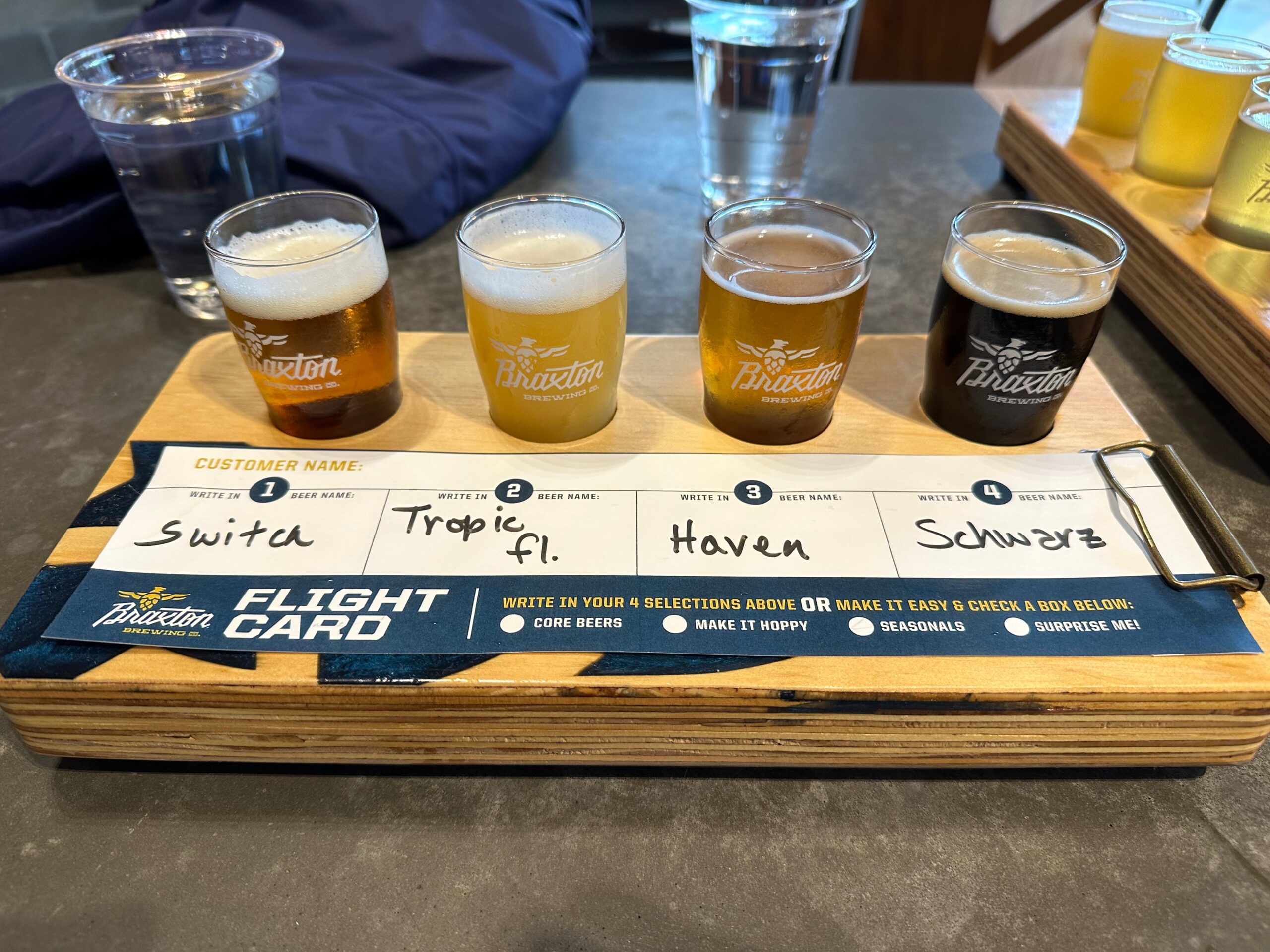 The other brewery visit I managed to fit in was across the Ohio River in Covington, KY, where the official son found an apartment in a very cool neighborhood just a bit more than the proverbial stone's throw from the river.  Braxton Brewing in Covington is massive.  The ground floor taproom can hold hundreds, and they top it off with a rooftop bar.  I was there, though, obviously, for the beer.  Braxton leans into the German heritage of the area, and, to me, that's where their strength really shines.  I had both their Haven hefeweizen and Schwarzbier (sadly, no fancy name).  I'm a big fan of hefeweizen, especially in summer.  Haven does not disappoint.  It has just enough malt and hops to add a little backbone to the flavor then get out of the way of the yeast.  The banana and spice notes star like they should.  The Schwarzbier, on the other hand, is all about the malt.  It's a very clean beer that finishes with roasted, slightly chocolate notes without veering into too much sweetness.  A very solid beer.  At the recommendation of the bartender, I also tried Switch and Tropical Flare IPAs.  Both are solid, but start with the German offerings if you visit Braxton.  Those beers are worth the trip.
Being in Kentucky, I did feel compelled to at least taste some bourbon.  Old Kentucky Bourbon Bar is right by our son's apartment, so it was a logical stop.  The bar itself is very cool.  Inside they've got heavy metal going on, and outside they have a more sedate shaded patio.  They also, apparently, serve a lot of bourbon sissies, like myself, as they have a clever selection of featured cocktails.  I confess to ordering a Kentucky Mule (unsurprisingly, bourbon and ginger beer).  I liked it quite a bit, and the bourbon drinking members of the family assured me the bourbon selection for actual bourbon drinkers is quite comprehensive.