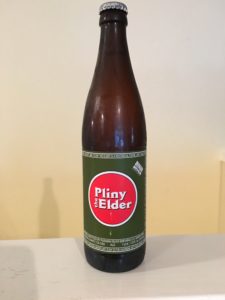 OK—everyone and his brother loves Russian River's Pliny the Elder these days. I almost didn't bother with a review because there's not a whole lot to say other than—it's great. If you see it buy it. It's really that simple.
I decided to go ahead an offer my 2¢, though, because I've been a fan for a long time. Pliny is the second double IPA I remember drinking. This is back when you could actually buy Pliny at some of our local stores without entering a raffle or liking the store on Facebook—don't get me started…
Anyway—to the review. Pliny is, indeed, a double IPA, but it is a double IPA that doesn't overwhelm you with an alcohol forward explosion. The beauty of Pliny is it's balance. It's got enough hops to satisfy anyone, and it does have that double IPA extra alcohol, but Russian River blends everything together perfectly. You get hoppy bitterness. You get malty sweetness. You get a smooth finish. Pliny might not be the best beer in the world, but it's undoubtedly the best double IPA in regular production that I've tried. If you see it, buy it.